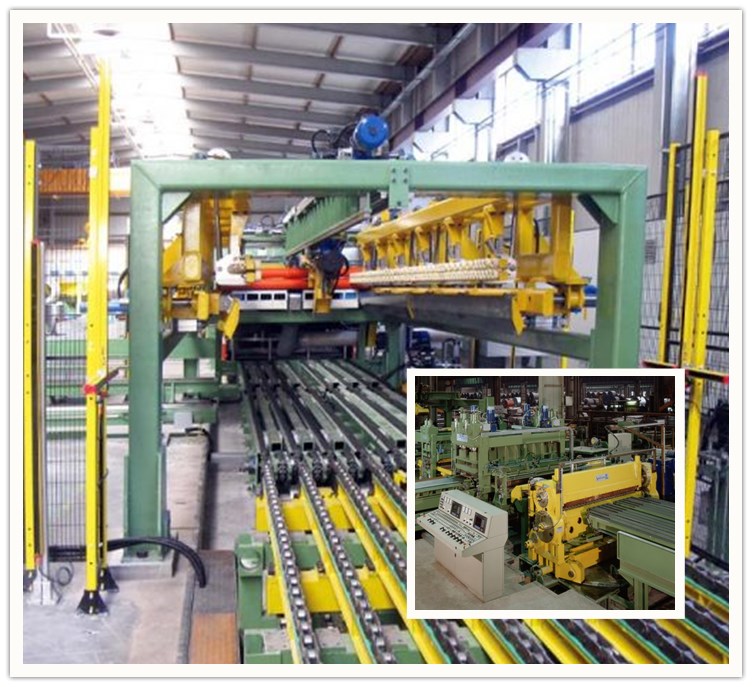 Rotary shear cut to length lines
We design efficient and reliable strip cutting systems to meet your requirements. Slitting and cut-to-length lines are also available with edge trimming, punching or stamping.
automatic decoiler, infeed unit, leveller with continuous feed, rotary shear and continuous cutting speed, available for thicknesses even up to 6.35 mm.
Recommended when large-scale batches are required, even with delicate materials such as stainless steel. Particularly suitable for service centres, steelworks and industries.
Features available from GEIT include:
Rotary Shear
Precision Levelling
Auto Slitter – servo controlled cutter positioning and gap setting
Auto coil loading
Paper or plastic film application
Edge Trimming
Strip Oiling
Quick roll change or cassette type precision levellers
Airfloat,Vacuum or Magnetic Stacking
Surface inspection
Banding / Packing
heavy gauge cut-to-length lines come with high-speed heavy duty shear, 5 roll flattener, dual inline levelers, twin coil uncoilers, triple function sheet stacker, and 2 quick change slitters for edge trimming. Equipped with a high-speed rotary shear with automatic gap adjustment our cut-to-length lines provide continuous output. Dual levelers, each with a different number of work rolls and roll sizes, broaden the gauge range.
Advantages for your production plant
Having cut-to-length lines for your production plant means it is easier, safer and more efficient for the production of processing materials. The advantages of having GEIT cut-to-length lines for your production plant are:
Minimal tooling preparations and higher productivity rates
Energy efficient
Reduced operating costs
High in speed and strength
High input and output rates
Extreme sheet flatness due to high precision levelers
Exact cutting accuracy

Shape Correction Leveller
Shape Correction Leveler is an integral part of Cut to Length Line. Dassnagar shape correction levellers have been built to achieve the precision-flat strip that today's industry demands. They are available in 4-hi and 6-hi configurations and can be supplied either as single units or as tandem levellers, depending upon the range of thickness to be processed. These precision levellers can also be equipped with an interchangeable cartridge feature with two or more sets of rolls. This feature is ideal for users who need to process a wide thickness range and cannot afford the space required for a tandem leveller arrangement. It also allows ease of roll cleaning and maintenance.
Shearing systems
The shear system is the heart of every cut to length and multi-blanking line, since it determines output and sheet length accuracy. The success of the shear system lies not only in precision-built machinery, but also in the quality and reliability of the electrical and control equipment that ties the line together. Dassnagar Cut to Length Lines feature state-of-the-art AC variable-frequency or positional drives. Our control systems can include line automation such as computer diagnostics and statistical process controls as well as management information and production control systems.
Stacking systems
Selecting the appropriate sheet stacker is critical to the productivity of any cut to length line. Dassnagar offers a wide range of stackers, including mechanical drop-arm designs for heavier applications and air-flotation, vacuum and magnetic designs for surface-critical, lighter-gauge sheets. For high-production applications, tandem arrangements are available. These allow the line to continue to process sheets into one stacker while completed stacks are being discharged from the other.
Other stacking systems can include a wide variety of pallet loading, stack weighing, storage and discharge conveyor units.
Salient Features of Cut-To-Length Lines:
wide processing range 0.11 mm to 20 mm, 400 mm - 2000 mm, 317 mm to 4500 mm stackable sheet length, input coil 30 Mt,
high productivity with quality, line speed 10-125 mpm,
high speed mechanical shears - cycle time under 200 millisec - 60 cuts/min,
wide shape correction (levelling) range - 0.4 - 6.0 mm,
mechanical up cut shear with pneumatic clutch and brake,
flying die-set shear with traveling conveyor and CNC control,
side trimming / slitter may be incorporated,
wide range of stackers - air float stacker, magnetic stacker, drop stacker, combination stacker with motorised pallet/piling discharge system,
multiple stacking options - straight line, staggard stack,
auto tail out function ensures that the coil is processed till its tail,
competitively priced lines - starts at 0.50 million US$,
servicing within 48 hrs in any corner of the world,
readily shippable spare parts,
in house manufacturing of all equipment to maintain quality.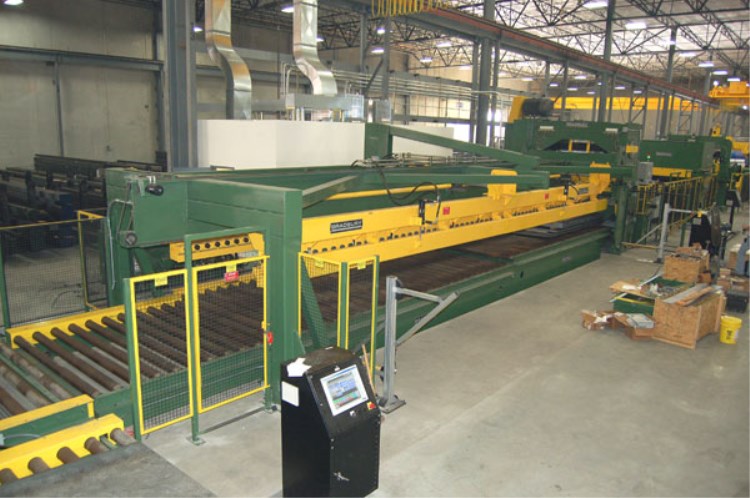 Cut-to-length lines are designed and built according to your special requirements. Based on our customers' input, a team of highly-qualified GEIT employees develops and designs a line concept that offers the most economical solution while achieving an increase in production and a higher product quality.
Each single machines that is part of the lines can also be supplied separately for integration on existing lines: decoilers, levelers, edge trimmers (with scrap choppers, scrap rewinders or scrap balers), cropping shears, rotary shears, flying shears, blank stackers, magnetic stackers, packing lines.
Leave Message
Please feel free to give your inquiry in the form below.We will reply you within 24 hours