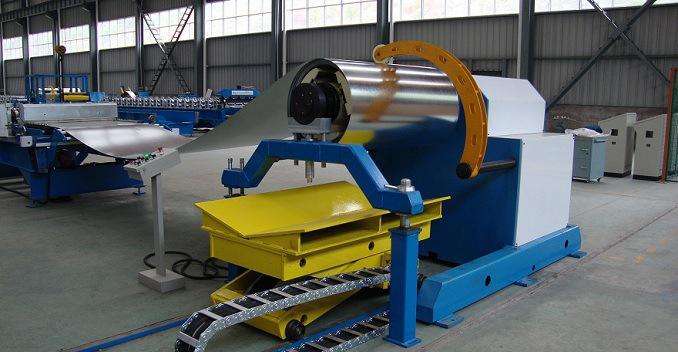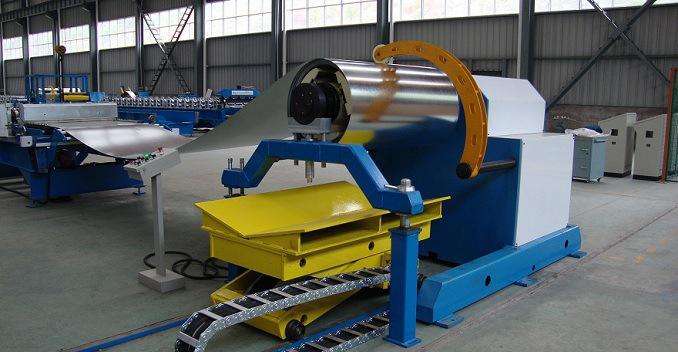 Uncoiler is used for supporting and developing strip coil into strip.Get ready for the next step.Today I will introduce hydraulic uncoiler for you!
Hydraulic uncoiler is a special equipment for leveling metal plate, used for leveling steel plate, uneven plate according to the relevant configuration can be composed of uncoiling, leveling, shear production line and other plate products production line.Applicable to machinery, vehicles, metal products household appliances, steel structure, decoration and other industries.
The hydraulic uncoiling movement shaft is connected to four fan-shaped plates through four tilting dovetail grooves on the four end faces. Each fan-shaped plate is protected from axial movement by a radial slide at the end, but it can expand and shrink along the radial direction.The end of the drum shaft is connected with a rotating oil cylinder. The piston rod of the cylinder drives the front four-edge axis to slide axially through the pull rod of the drum shaft, thus driving the radial expansion and contraction of the fan plate.The reel may be increased in nominal diameter by the addition of four fan-shaped plates.The frame of the uncoiler can be moved on the guide rail of the frame and driven by the hydraulic cylinder, which can realize the position control.In order to enhance the stability of the drum, a support arm device is designed on the head of the drum. When there is a steel coil on the drum, the support arm drives through the oil cylinder and supports the head of the drum. At ordinary times, the support arm retracts without affecting the winding of the steel coil.
Leave Message
Please feel free to give your inquiry in the form below.We will reply you within 24 hours