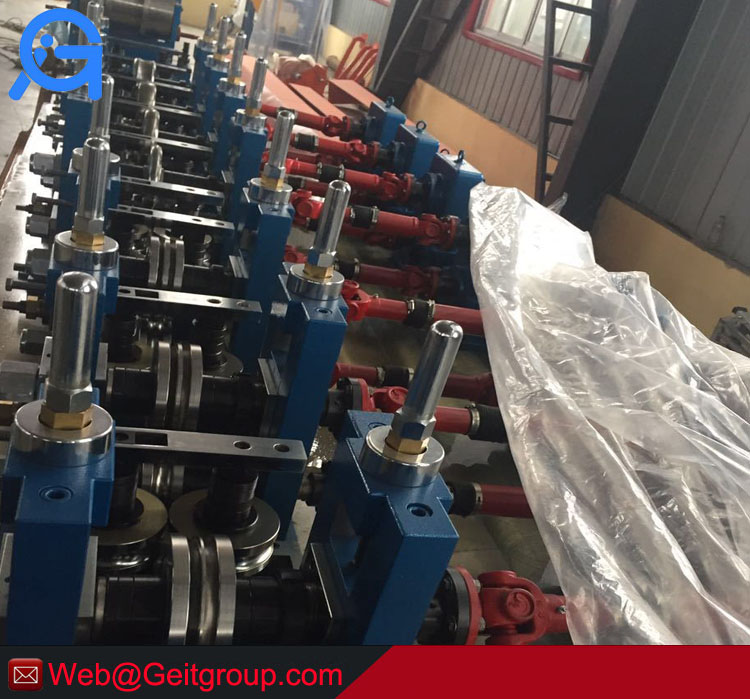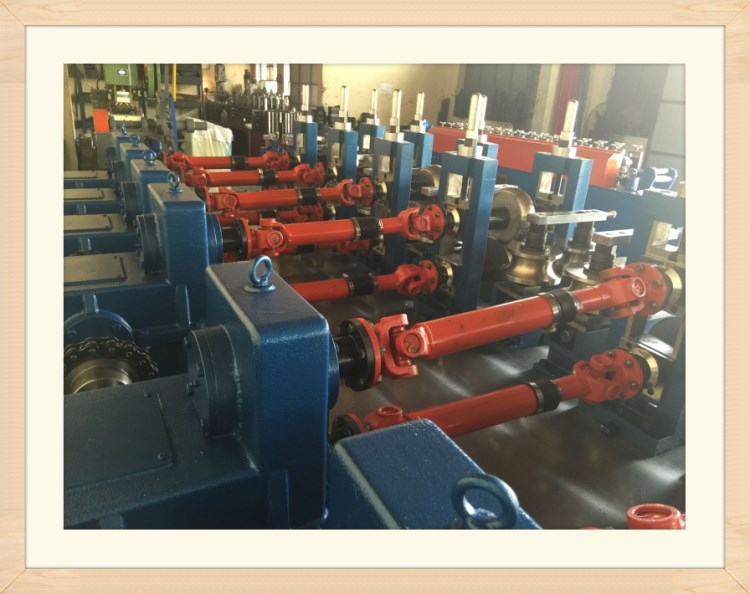 Automatic stainless steel tube making machine with mature technology:
Stainless steel pipe making machine is designed for manufacturing stainless steel straight welded pipe for metallurgy, construction, transportation, and machinery and vehicle industries. It adopts long steel strip as the material to manufacture steel pipes according to requested size by cold rolled forming and argon arc welding method. To be specific, the stainless steel pipe production line can produce round pipe, square and rectangular tube, as well as section steel through cold rolled forming and TIG welding technology.
The machine is designed featuring easy and safe to operate, low maintenance, and cost reduction, reducing and high production. The stainless steel pipe, which allows flatting, forming, welding, annealing, polishing, sizing, straightening, finishing, cutting, and unloading at one time for production.
Process Flow of Stainless Steel Tube Making Machine
Slit Coil → Un-coiler → Forming → TIG Welding → De-beading → Grinding → Sizing → Annealing → Sizing →Cutting → Run out Table → Pipe collecting and packaging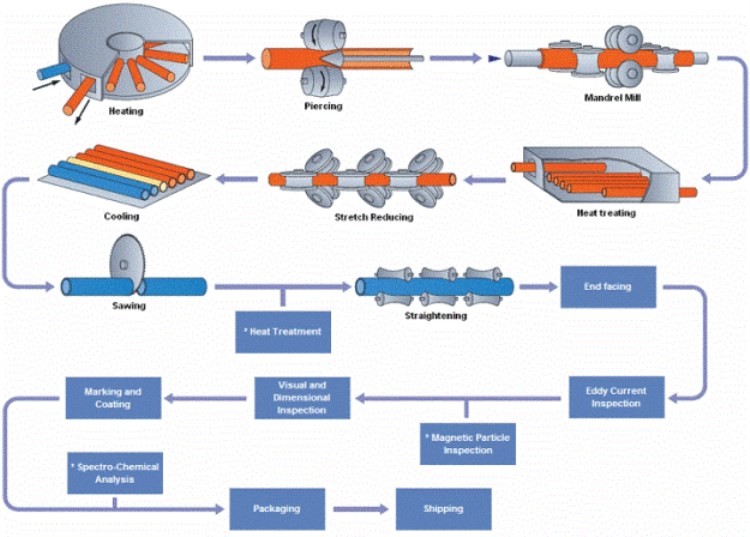 Main components of stainless steel tube making machine:
| | |
| --- | --- |
| (1) Uncoiler | (2) Forming Section |
| (3) TIG Welder | (4) Electric Control Panel |
| (5) Welding Torch Stand | (6) De-beading Section |
| (7) Seam Grinding | (8) Initial Sizing |
| (9) Online Bright Annealing | (10) Final Sizing |
| (11) Cutting Sation | (12) Run out Table |
Applications of Stainless Steel Tube Making Machine
1. Industrial Steel Pipes
2. Decoration Pipe

Parameter of stainless steel tube making machine for industry usage:
Title

GTS30

GTS40

GTS50

GTS60

GTS80

GTS100

GTS110

OD(mm)

Φ5-20

Φ8-45

Φ25-76

Φ50.8-114

Φ89-159

Φ114-219

Φ114-325

WT(mm)

δ0.3-1.2

δ0.3-2.5

δ0.5-3

δ0.6-3.5

δ1-4

δ1.5-5

δ1.5-8

Speed(m/min)

2-9

0.5-7

0.5-4

0.5-4

0.5-3

0.5-2

0.4-1.7

Drive Motor(KW)

4

7.5+6

11+8

15+11

18.5+15

22+15

22+18.5

Seam grinding unit

3KW×1

3KW×N

3KW×N

3KW×N

3KW×N

3KW×N

3KW×N

Transmission

Gear box

Gear box

Gear box

Gear box

Gear box

Gear box

Gear box

M/C length(mm)

5

7.8

8.5

9

13

14

17

Remark

Extra order of online de-beading &heat treatment system is available.
Vertical or horizontal type decoiler is available
Abrasive wheel cutting (fast rotation) or saw blade (slow rotation with water cooling, oil&air mixed) cutting or saw cutting is available)
Cutting saw or rolling system is available
Strengthened type or synchronization type roller stands is available.
Extra order of TIG (argon arc) welder or plasma welder is available
Special design in term of clients requirement is available
Parameter of stainless steel tube making machine for industry usage:
Title

TS30

TS40

TS50

TS60

TS80

OD(mm)

Φ4-15

Φ6-32

Φ8-48

Φ38-76

Φ50.8-114

WT(mm)

δ0.2-0.8

δ0.17-1.2

δ0.18-2

δ0.4-2.5

δ0.5-3

Speed(m/min)

2-12

2-16

2-16

3-13

3-11

Drive Motor(KW)

4-3

5.5

8

11

15

Seam grinding unit

3KW×1

3KW×N

3KW×N

3KW×N

3KW×N

Transmission

Gear box

Gear box

Gear box

Gear box

Gear box

M/C length(mm)

2.4

6

7

7.5

8.5

Remark

Vertical or horizontal type decoiler is available
Abrasive wheel cutting (fast rotation) or saw blade (slow rotation with water cooling, oil&air mixed) cutting or saw cutting is available)
Cutting saw or rolling system is available
Frequency conversion or speed adjustable motor is available.
Extra order of TIG (argon arc) welder or plasma welder is available
Special design in term of clients requirement is available
Leave Message
Please feel free to give your inquiry in the form below.We will reply you within 24 hours