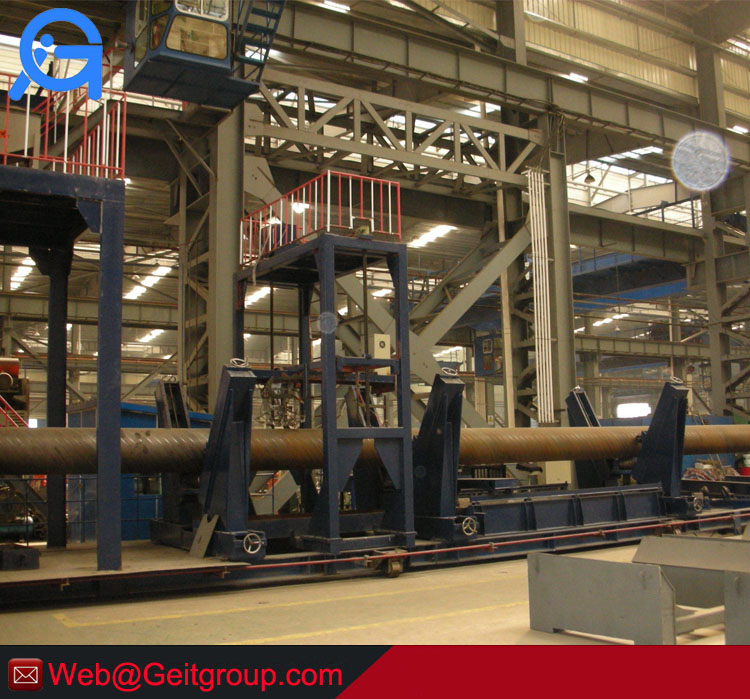 Helical Submerged Arc Welded Pipe (HSAW) mill line
Helical submerged arc welded (HSAW) pipes are made from HR coil, where the coil is welded spirally to give a shape of pipe through the HSAW mill line. One of the unique features of the HSAW mill is that it can manufacture pipes of same size or two different sizes simultaneously at a very high speed, thereby drastically reducing the delivery time. HSAW welded pipe mill line should make sure the pipes pass the water pressure test, welding seam cold bend test and tensile strength test.
We can provide the whole set of machines for producing various diameters of steel pipes.
| | | | | | | | |
| --- | --- | --- | --- | --- | --- | --- | --- |
| item | Model | Pipe Size(mm) | Plate Width(mm) | Thickness(mm) | Coil weight(MT) | Installed capacity(KW) | Floor area(㎡) |
| 1 | LH-400 | Φ219~Φ426 | 400~750 | 5-10 | 10 | 180 | 18×180 |
| 2 | LH-500 | Φ219~Φ529 | 400~800 | 5-11 | 15 | 200 | 18×180 |
| 3 | LH-600 | Φ219~Φ630 | 450~1050 | 6-12.7 | 20 | 240 | 21×180 |
| 4 | LH-700 | Φ219~Φ720 | 500~1250 | 5-14 | 20 | 260 | 21×180 |
| 5 | LH-800 | Φ219~Φ820 | 500~1300 | 6-18 | 30 | 380 | 24×180 |
| 6 | LH-1000 | Φ219~Φ1020 | 500~1300 | 6-20 | 30 | 390 | 24×180 |
| 7 | LH-1400 | Φ325~Φ1420 | 500~1560 | 6-22 | 30 | 400 | 26×180 |
| 8 | LH-1600 | Φ426~Φ1620 | 500~1560 | 6-25.4 | 40 | 510 | 30×180 |
| 9 | LH-1800 | Φ508~Φ1820 | 1100~1600 | 8-25.4 | 40 | 510 | 30×180 |
| 10 | LH-2000 | Φ508~Φ2020 | 1200~2000 | 8-25.4 | 40 | 530 | 30×180 |
| 11 | LH-2400 | Φ508~Φ2400 | 1200~2000 | 8-25.4 | 40 | 530 | 30×180 |
| 12 | LH-3000 | Φ508~Φ3000 | 1200~2000 | 8-25.4 | 40 | 530 | 30×180 |
Working process flow of helical Submerged Arc Welded Pipe (HSAW) mill line:
Loading coil→uncoiling→leveling→Shearing and butt welding→Rotary shearing→Edge milling→Delivering machine→Prebending and guide plate→Forming→Inside welding→Outside welding→Cutting→Pulling out→Χray testing→Hydraulic testing→End facing and chamfering→UT→Marking→Storing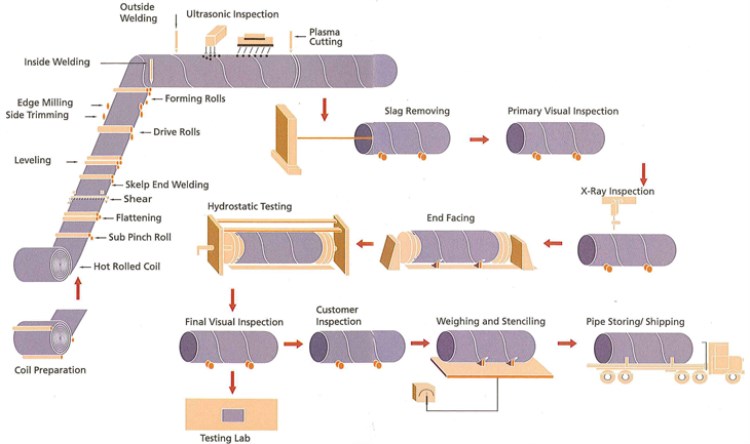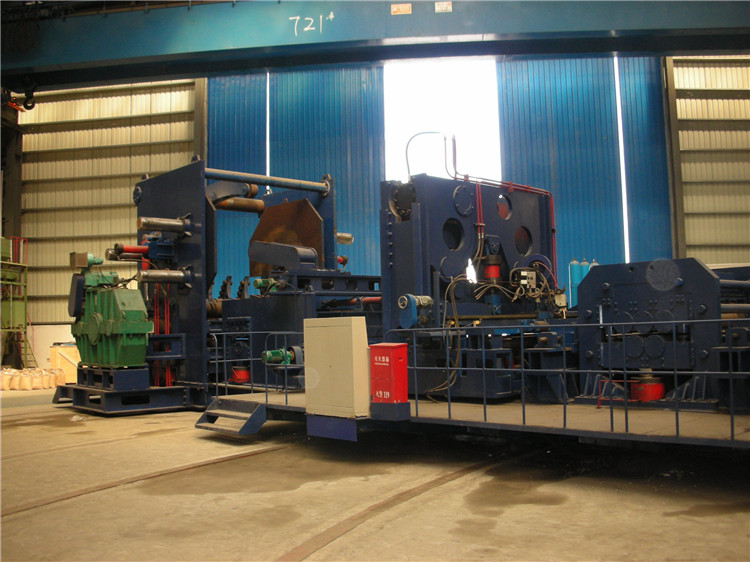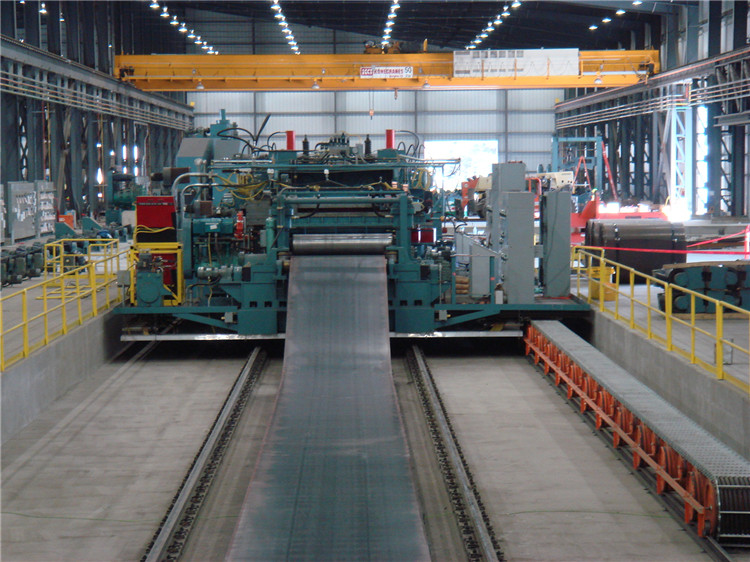 Leave Message
Please feel free to give your inquiry in the form below.We will reply you within 24 hours