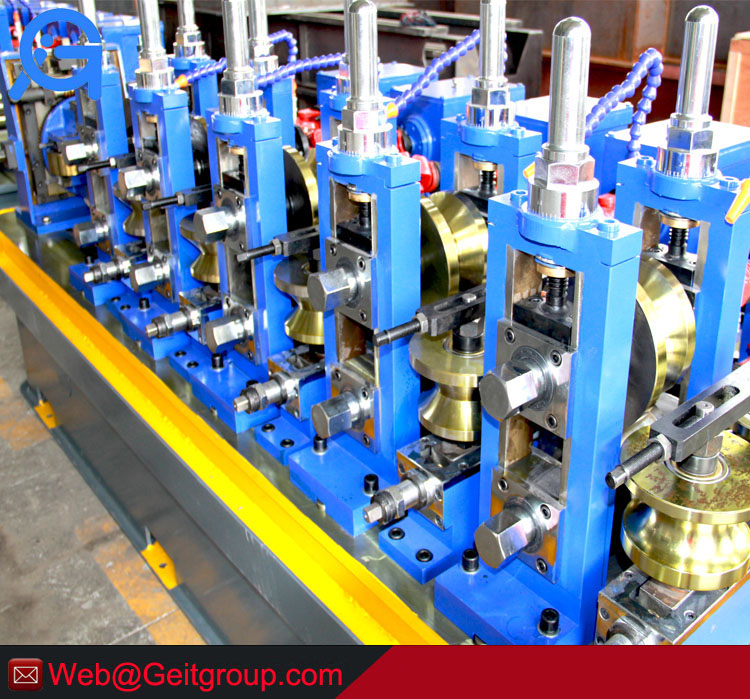 GEIT HG76 is designed for gantry type to welding pipe of Φ10mm-Φ89 mm with thickness of 1.0mm-3.0mm from cold-rolled and hot-rolled coil strip by means of unclosed tubular blank with its subsequent welding into pipe, edge heating by means of solid state high-frequency welder, longitudinal seam welding in rolls of tube welding machine, cooling, sizing or shaping and finally on-stream cutting of endless tube in measured lengths. It is quite suitable for thoese want to operate a pipe making mill, For this type machine can supports much more types of welded pipe in large range pipe diameters, and also it could make pipe in a very high speed of 20-80m/min.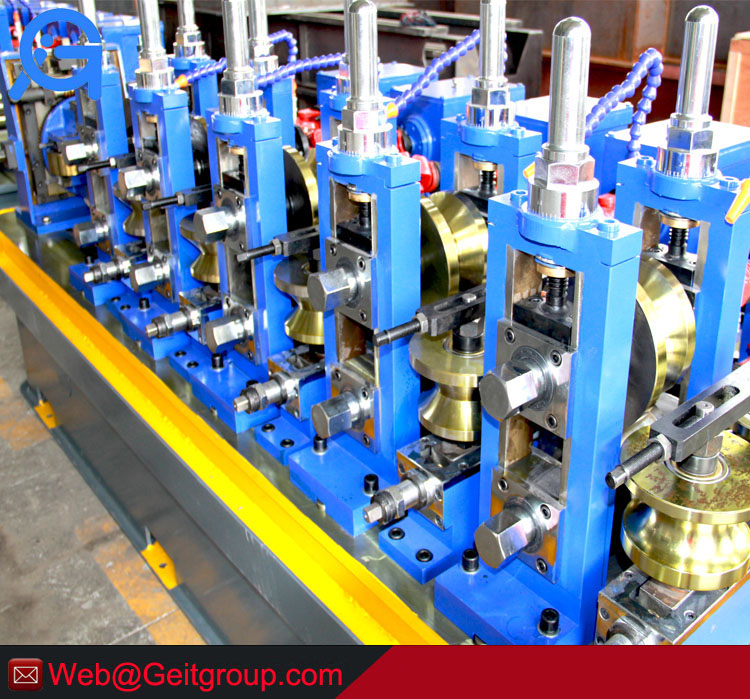 Process flow of the pipe making mill:
Steel coil→→ Double-head uncoiler →→Strip-head Cutter and welder→→Spiral Accumulator→→Forming section(Flattening unit +Main driving unit +Forming unit +Guide unit +High frequency induction welding unit +squeeze roller)+ Deburr frame →→Cooling unit →→ Sizing unit and straightener →→Flying saw under computer-control →→ Run-out table

Main elements of HG76 welded pipe making mill:

Double head uncoiler

1

Hydraulic shearing and manual welding machine

1

Coiler feeder to accumulator

1

Accumulator

1

Forming and sizing mill

1

F5-200kw solid state H.F welder

1

Electric control system

1

CNC flying friction saw

1

Roll out table

Steel frame, if you need the automatic one then we can change for you

Tech service

The tech team needs to stay at customer factory 6 months, training customers till everything works well. And the all fee will be covered by customer.

Leave Message
Please feel free to give your inquiry in the form below.We will reply you within 24 hours