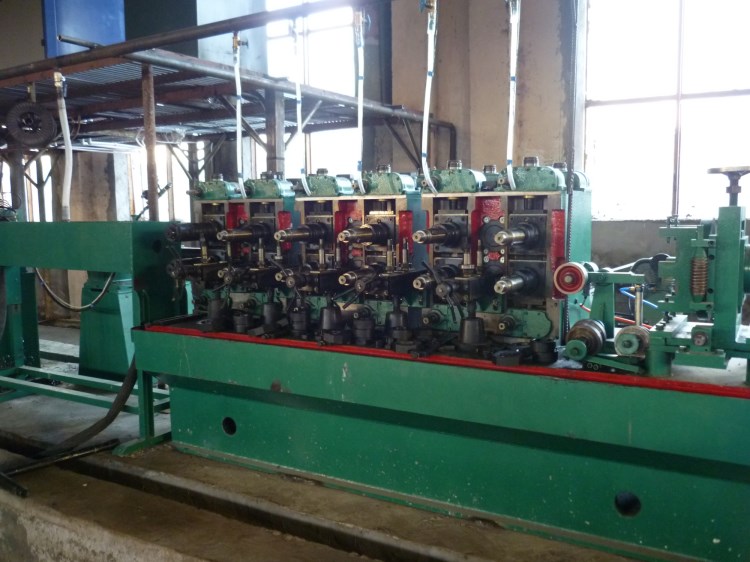 HG50 welded pipe machine for round pipe, rectangle pipe and square pipe etc
HG50 type welding pipe machine could be used to make various types pipes like round pipe, square pipe, oval pipe and rectangle pipe. It can be designed by two types: cantilever type with features of change moulds fastly and gantry type with feature of making pipe in high speed
HG50 type welding pipe machine could be used to make various types pipes like round pipe, square pipe, oval pipe and rectangle pipe. It can be designed by two types: cantilever type with features of change moulds fastly and gantry type with feature of making pipe in high speed. HG50 is one of our high frequency type machines, cantilever type. It supports base materials such as carbon steel, steel, low carbon steel and others.
Here I will introduce HG50 welded pipe machine cantilever type. This machine is suitable for those who needs make various types small pipes within the wall thickness of 0.5-3.0mm, and pipe diameter from 10-60mm at the speed of 30-80m/min.
Working Principle:
For welding, it makes full use of two sciences-high-frequency current Skin-Effect and Adjacency Effect to make the current concentrate on the edge, then the temperature will reach to the point of welding. Then we can make the sheet to pipe by rolling and make the edge melting to one.
Features of HG50 welded pipe machine:
1.Two types available for you to choose cantilever type and gantry type.
2.Diversity of materials: carbon steel, hot rolled coil, low carbon steel and others.
3.Material thickness range: 0.5-3mm.
4.Diameter of pipe:10-60mm.
5.Easy and fast to change mould.
6.Diversity of types pipes: round, square, oval and others.6.Diversity of types pipes: round, square, oval and others.
7.Lower energy consuming, lower workforce consuming and others.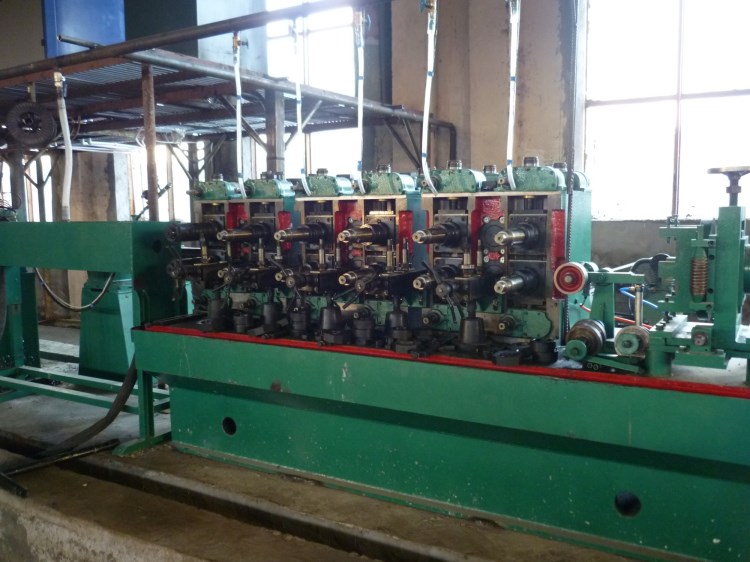 Here are some basic parameters for your reference:
Main elements introduction

Decoiler

Double head decoiler-inner expanding manual
Material width: 39.88~200mm
Material thickness: 0.4~2.0mm
Outside diameter:Φ900~1800mm
Inner diameter: Φ500~520mm
Max weight: 2500kg

Main roll forming
machine part:

Coil leveling and feeder part

1 set

Rollers-horizontal(6)
Diameter: Φ60mm
Material: 40Cr

cantilever type, change roller at the side of machine

vertical roller: 5 sets
Mode: Passive rotation

Material: 45# steel
Diameter: Φ30mm

Machine for removing weeded sacra

1 set

Guide roll stand for controlling direction of pipe seam to insure pipe seam flatly and straightly entering into extruding rollers.

1 Set

One set of extruding roll stand for controlling weld seam to realize successful welding.

1 set

Scraper frame for scraping outside weld seam

1 set

Installation bed along with forming machine

1 set

Water cooling device

2 set

Size diameter part

Mainly fine shaping pipe after welding and controlling size accuracy.

Horizontal roll stand and vertical roll stand.(structure same as forming device)

Roughly straightening machine frame

Type: Turk's head type, 4 rolls two side

One installation bed along with sizing main machine.

1 set

Drop tube stand:

It is welded frame type by plate, with part that can give signals for guiding the length.

Runout table

Customize according to customer need.



Leave Message
Please feel free to give your inquiry in the form below.We will reply you within 24 hours